💤The Inventor of the "Sleep Economy" is Going Public
Casper ($CSPR) and One Medical ($ONEM) filed their IPO paperwork; $AMLP ready for a turnaround? $TAP, value or value trap? And the best of what we read and listened to.
Congrats to the LSU Tigers for winning the national championship👏👏👏
Sign up below to get our free updates sent to your inbox.
---
PUBLIC OFFERINGS
A question we ask in our initial evaluation of a company:
If this company disappeared from the face of the earth, could another company step in without the customer missing a beat?
In other words, how easily replicable is a company's product or service?
Keep that in mind when thinking about the upcoming slate of IPOs.
---
Casper ($CSPR): Pioneers of the "sleep economy"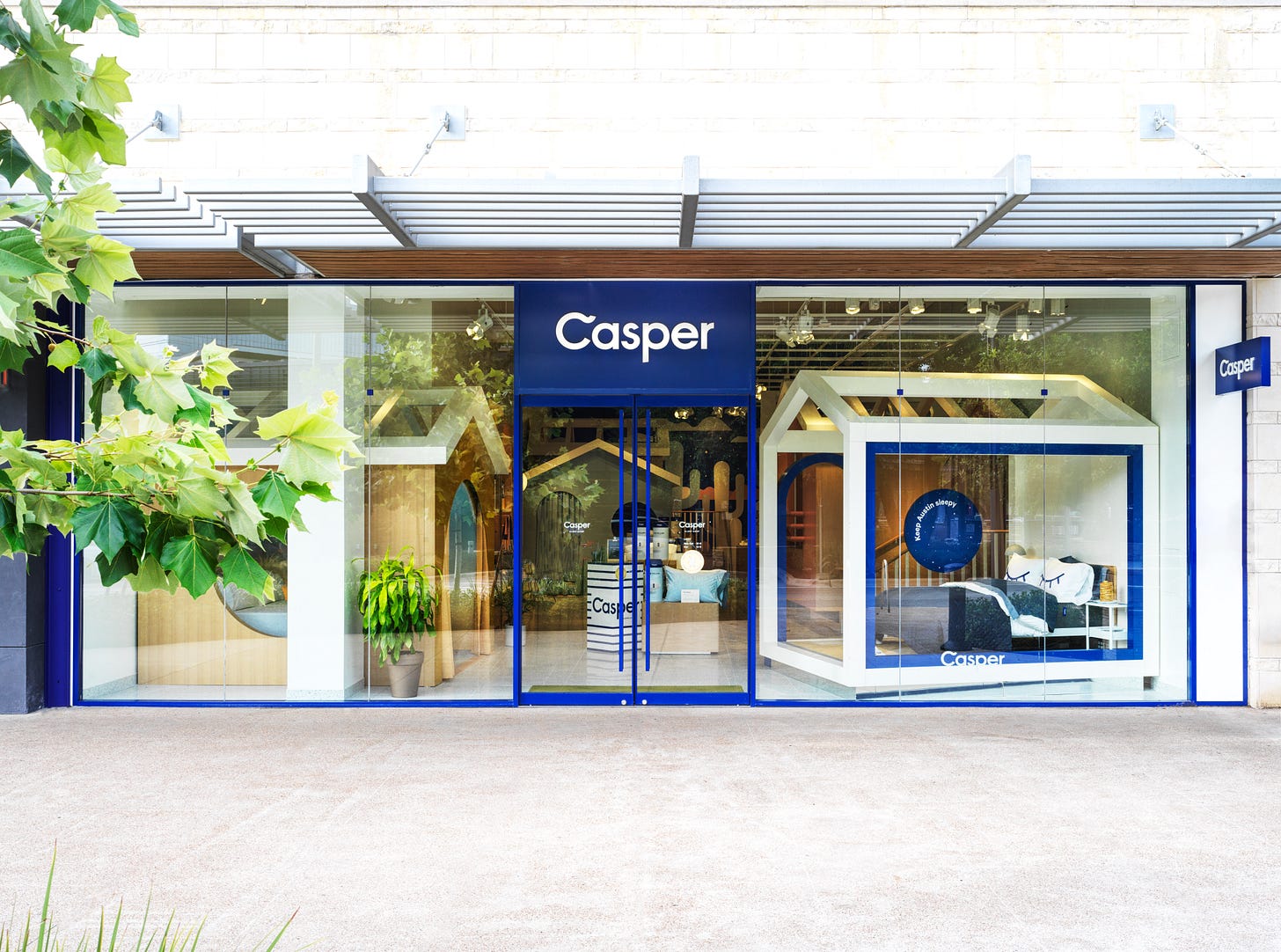 Overview:
Their goal: To be the top-of-mind brand when consumers are looking for products to help them sleep better.

They started with a mattress and expanded into pillows, sheets, duvets, bedroom furniture, sleep accessories, sleep technology, and sleep services. This is a familiar playbook. Build an audience with one product and over time, sell them multiple products in the same category.

They have grown 2x faster in markets where they have a retail store. Over time, they want 200 Casper stores in North America.
Business stats:
Revenues of $357.9 million in 2018, up from $250.9 in 2017.

Net loss of $92.1 million in 2018, up from a loss of $73.4 million in 2017.

Historically, they have generated ~3 dollars of revenue, net of promotions, for every 1 dollar of marketing spend.
Some good(ish) news: Their gross margins hover around 50%. That's better than their public comp, Purple ($PRPL), whose gross margins clock in around 40%.
Other than that, their financials resemble other unicorns that have gone public — slowing revenue growth, coupled with heavy losses.
The Atlantic's Derek Thompson summed up their business nicely👇
The bottom line:
Even though Casper was early in the DTC mattress category, its product and go to market strategy have been copied by Purple ($PRPL), Leesa, Nectar, Tuft & Needle, and many others. Not to mention Amazon and Walmart have incubated their own mattress brands that they sell online.
With last year's crop of money-losing IPOs(👋Uber and Slack), we are curious about how the market will treat this one. And this one isn't even a software company.
But who knows, the hot takes on Twitter have been vicious. Maybe the stock will get cheap enough to be interesting🤷‍♂️
---
One Medical ($ONEM): Reinventing the patient-doctor experience
Overview:
They created a membership-based primary care practice that centers around a well-designed office, technology, and a staff of not only doctors but a care team that helps you with billing, insurance, and referrals.

A membership is $199/year, but not required to use their service; though most people pay. The membership fee pays for their digital health tools and enhanced services they provide their members.

Founded by Dr. Tom X. Lee, who in 2018, started a new company, Galileo, that appears to compete directly with One Medical??? I couldn't find an explanation as to why he left One Medical to start a direct competitor🤷‍♂️
Business stats:
397,000 members in 9 markets in the U.S. Also has 6,000 enterprise clients.

Revenue of $212.7 million in 2018, up from $176.8 million in 2017.

Net loss of $45.5 million in 2018, up from a loss of $30.8 million in 2017.
How they are different from a typical primary care practice
Same or next-day appointments✅

Appointments start on time✅

Seamless experience across 60+ offices nationwide✅

24/7 virtual care✅

On-site lab services✅

Longer, non-rushed appointments✅
What their app can do
Appointment scheduling:
Access your health records:
A virtual visit:
The bottom line:
Boy is there huge opportunities in the health care space.
Let's go back the question we posed at the top of this section:
If this company disappeared from the face of the earth, could another company step in and offer that product or service without the customer missing the old company?
It's hard to know how easily replicable their service is. My local clinic has adopted online booking and bill pay over the past year. And we expect the features above to be table stakes within the next five years. So we'll see…
Because I'd only have time to use One Medical once before submitting this, I turned to Ariel Schwartz, an editor on our science team who's a longtime One Medical member, to get her perspective on the company.

Schwartz had been using One Medical in San Francisco for a number of years and found it convenient (an office was in her office building).

But since moving to New York a year ago, she's been less excited about the service. For one, she found it hard to book an appointment with a doctor, rather than a PA or nurse practitioner.

And some of the perks that initially drew her to One Medical, like messaging and booking online, are now routinely available at other doctor's offices, making her rethink the annual fee.
From above: "She found it hard to book an appointment with a doctor" is a tough look. Especially when the second headline of your homepage says "We're changing the way you go to the doctor." Yikes!
By the way: If you are a member of One Medical or have a deeper insight into this business, drop your thoughts in the comment section below.
---
STOCKS TO WATCH
Molson Coors ($TAP): Value or value trap?
Even though they throw off lots of cash, $1.68 billion in FY 2018, Molson Coors has seen negative revenue growth for the past two years as younger people adopt healthier lifestyles; which includes drinking less beer👇
What are Molson Coors and other beer companies doing about this?
We go deeper into Molson Coors and the beverage industry in this week's member's issue. (Out Friday the 17th)
Learn about joining our private membership.
---
ETF SPOTLIGHT
Alerian MLP ETF ($AMLP)
Let's state the obvious: Since peaking in 2014, the trend has been down. But maybe, just maybe, it might be beginning to reverse.
If $8 holds the downside, there's a good chance we could see a move back towards the top of the range near $12 in 2020; 50% upside from the $8 dollar level.
What's the Alerian MLP ETF? It's an ETF that tracks MLPs (Master Limited Partnerships). MLP companies transport, store, and, process energy commodities like oil and natural gas.
Top three holdings:
MLPX LP ($MLPX)

Energy Transfer LP ($ET)

Enterprise Products Partners ($EPD)
---
THE BEST OF FINTWIT
Helpful thread on good news/research sites
Hey FinTwit, let's curate a list of great industry news/research sites. We're talking about non-investment focused sites that target industry professionals. We'll kick off the thread with a couple we like. Add your favorites as well.
If you are interested in real estate investing
Speaking of real estate…
---
📚THE BEST OF WHAT WE READ
Last week I started Bob Iger's book, The Ride of a Lifetime: Lessons Learned from 15 Years as CEO of the Walt Disney Company.
If you have any interest in investing, leadership, business strategy, and company histories, I cannot recommend this book enough.
I'm pulling three of my favorite excerpts.
How to foster creativity
However you find the time, it's vital to create space in each day to let your thoughts wander beyond your immediate job responsibilities, to turn things over in your mind in a less pressured, more creative way than is possible once the daily triage kicks in.
Managing people
In your work, in your life, you'll be more respected and trusted by the people around you if you honestly own up to your mistakes.

Be decent to people. Treat everyone with fairness and empathy. Create an environment where people know you'll hear them out, that you're emotionally consistent and fair-minded, and that they'll be given second chances for honest mistakes.

Tom and Dan (Bob's bosses at Cap Cities) believed that talent was more important than experience and trusted that tings would work out if they put talented people in positions where they could grow, even if they were in unfamiliar territory.
Prioritizing
During this period of time, Bob was prepping to pitch the Disney board about why he should be the next CEO. This part of the conversation is between him and Scott Miller, a political consultant.
Bob started ticking off a list of five or six strategic priorities he wanted to pursue. And then Scott stepped in.
Scott: Stop talking. Once you have that many of them, they're no longer priorities.

Priorities are the few things that you're going to spend a lot of time and a lot of capital on. Not only do you undermine their significance by having too many, but nobody is going to remember them all.

You're going to seem unfocused. You only get three.

Bob: A company's culture is shaped by a lot of things, but this is one of the most important — you have to convey your priorities clearly and repeatedly.
I could go on but just get the book. It's great!
---
🎙WHAT WE LISTENED TO
My First Million: Million Dollar Brainstorm Episode
This is one of several brainstorming episodes between the Hustle's Sam Par and host Shaan Puri. In this episode, they talk about Shopify spy tools, why apartment plants are a booming business and lucrative content sites.
a16z: Why we Should be Optimistic About the Future
Kevin Kelly, the founding editor of WIRED magazine, sits down with a16z co-founder Marc Andreessen to discuss the evolution of technology, emerging trends, and why they're optimistic about the future.
---
Thanks for reading, and have a great day!
-Caleb
---